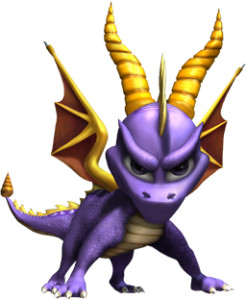 Purple is my favorite color. Dragons happen to be my favorite creature. Do you think I would pass up the chance to combine two of my favorite things in to one oh-so-purple cosplay? Of course not! Spyro the Dragon has always been a must on my costume list, and I'm thrilled this costume is finally underway!
I first started playing Spyro the Dragon on the original Playstation back in 2000. The first game I played was the third in the series, "Spyro: Year of the Dragon," and I loved it.  Not only did I love Spyro the purple dragon, I loved working out all the puzzles and secrets. I spent hours searching for dragon eggs, practicing my skateboarding skills, and discovering all the hidden skill points. I still enjoy playing the Spyro the Dragon on my Playstation 2, and I'm confident I will never outgrow his scaly charms.
Spyro's personality confident, even borderline cocky. He is definitely quick to rush in headfirst and save the day. I thought the best way to show off his personality would be with an eye catching outfit. I say outfit because I did not want to make a literal representation of  Spyro as a Dragon. Rather, "people clothes" that show off Spyro's true colors. Get it? Purple tie-in? Heh. Since I am still working on my sewing skills, I started with a this Simplicity costume pattern. There's no shame in admitting you need some help every now and again! To start, I'm referencing pieces of pattern B. I also customized the bracer shape from pattern C. I'll also be adding in some extra Spyro-esque touches like belly scales, pauldrons, and of course some wings!
Here are a few shots of my progress using the Simplicity pattern:
With the base of the outfit complete, I can now set my sights on additional details. I have already begun work on the golden dragon horns, and will be patterning the wings and pauldrons in the upcoming weekends. Keep a close eye on my Facebook page for the most recent progress!
Until then, "Looks like I've got some things to do!"